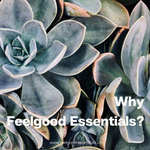 12 REASONS TO TRY FEELGOOD ESSENTIALS CBD and CBG oils
12 REASONS TO TRY FEELGOOD ESSENTIALS CBD and CBG oils, UK's Trusted brand, founded in 2017. 
1. SATISFACTION GUARANTEED - it doesn't cost you anything to try. Not happy after few weeks of use? We will refund your first bottle.

2. OUR OILS ARE 100% ORGANIC - no additives, flavourings or preservatives.

3. OUR OILS ARE EXTRACTED WITHOUT SOLVENTS.

4. WE DON'T USE ALCOHOL, CO2 OR HEAT EXTRACTION EITHER.

5. That's why our oils are full of OTHER CANNABINOIDS - such as CBDa, CBGa - TERPENES, FLAVONOIDS, and what is important - they are in their NATURAL PROPORTIONS. We don't add terpenes after the extraction like some brands do.

6. That's why our products are not only full spectrum, but TRUE FULL SPECTRUM. We believe our oils are superior to any other full spectrum oil with terpenes added after the extraction, and definitely superior to any isolate product (containing only CBD).

7. We are a 100% VEGAN and ethical brand, set up by vegans. We used to run a vegan cafe called @thefeelgoodcafe in North London before moving to Portugal where we will soon run a vegan B&B - check @vegan.sagres

8. We have been running since 2017 - way before CBD was mainstream!

9. We have great reviews on Truspilot, and personal recommendations. Our satisfaction guarantee policy works to the extent that we get almost no returns.

10. We have a FULL CONTROL over production. We don't order CBD in bulk and repackage into our branded bottles - we grow the plants, make oil ourselves to the highest standards and fill the bottles ourselves. We perhaps are not the best in marketing, but the product is absolutely unique.

11. Our oils are kept in 100% LIGHTPROOF VIOLET BOTTLE, the bottle is not cheap but makes product stay as fresh as on the day of packaging. Please re-use it!

12. Our product is lab tested, with ultra low THC levels, completely legal, and meets UK legal requirements.